Potion Commotion
Potion Commotion is a four player arena game where witches must defend their own cauldron whilst attacking their opponents'. Double, double, toil and trouble, who will win and who will fumble?
Taking heavy inspiration from Bomberman, Potion Commotion combines hectic local multi-player potion placing gameplay with a potion crafting system. Around the map, there are various ingredients. When combined within a cauldron, a potion is produced. The effects of this potion are dependent on the ingredients can can be used to protect your cauldron, or attack someone else's.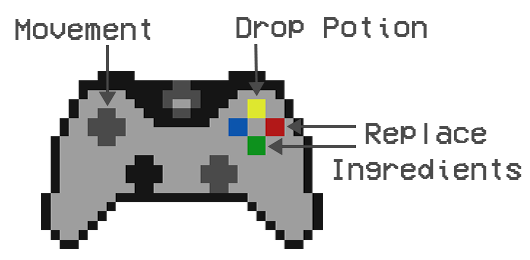 This game was developed by Myat Aung, Joseph Hesketh and Lizzie Vialls as part of a module on Game Development hosted by the Centre for Intelligent Games and Game Intelligence (IGGI).
All of the sprites seen within the game are either made by Lizzie Vialls or edits of Arks' Witchcraft - Sprite Sheet and Dunjo - Free Platformer Tileset.
NOTE: The game was made in less than a week and is still being cleaned by members of the team. Any feedback, bugs, or suggestions is greatly appreciated in the comments and we will endeavour to improve the game when possible.